3D printing enables to multiply access to respirators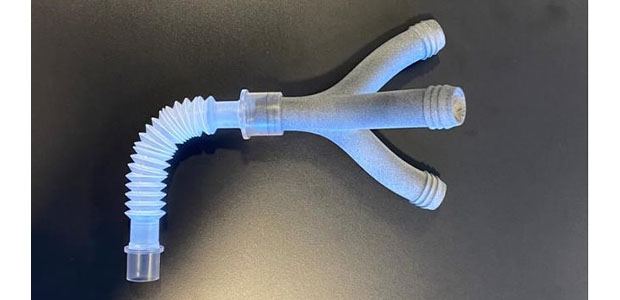 24 de March de 2020
A group of companies and institutions led by the alliance between the Consorci de la Zona Franca (CZFB) and Leitat started yesterday the production of 3D-printed splitters that enable more than one coronavirus patient to have access to a single respirator.
The shortage of assisted respiratory equipment in hospitals and ICUs has generated the need for the development of a printed device that will make it possible to use what a priori was a single assisted ventilation equipment for two people simultaneously, even reaching up to three or four patients with the same ventilatory requirements. The design has been developed by the Leitat R + D team for 3D printing on polyamide 12 (PA12) with HP 's Multi Jet Fusion (MJF) technology, whose industrial capacity allows 17 pieces to be produced for each print uninterruptedly.
The production of these pieces started yesterday afternoon and is being carried out by a group of companies that have voluntarily offered their facilities and production capacity: 3DSix, Avinent-Corus, Barel, Eurecat, Fundació CIM-UPC, Hipra, HP, Ineo, Pantur and Prometal3D.
The Intensive Care Units of the Vall d´Hebron Hospital and the Consorci Sanitari de Terrassa are also part of the working group for their effective protocolization and implementation. This strategy aimed at maximizing the performance of the installed respirators can only be decided and implemented by specialists who ensure the correct equipment operation. Its use has been accepted at these critical times due to the large number of patients who cannot be connected to these devices.
The production of these devices has been prioritized due to their rapid implementation and effect on the patient. Tomorrow a first production of 200 devices will be available. The objective is to reach 1,000 units next week and thus provide service to the different health centers in the country, while at the same time continuing to carry out the first industrializable field respirator (Leitat1) prepared to give support to hospitals and ICUs as was officially announced yesterday.
The CZFB has set up a specific email, proposals@dfactorybcn.org, to receive all the proposals and ideas designed to help curb the massive spread of the coronavirus and/or help protect the health of all citizens, especially the health professionals ones.