Visits, events and trade fairs
BNEW has positioned itself as the the new economy and recovery engine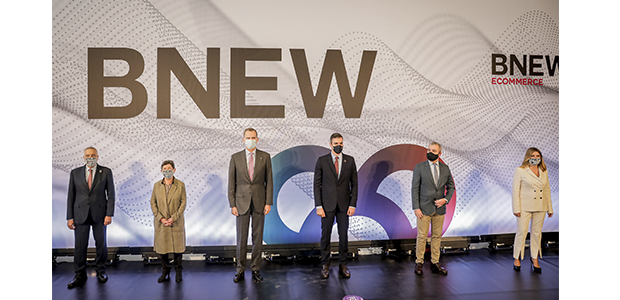 2 de November de 2020
More than 10,861 attendees, generating 23,271 business contacts, have turned Barcelona into the world capital of the new economy and recovery.
King Felipe VI, the President of the Government, Pedro Sánchez, and the first deputy mayor of Barcelona City Council, Jaume Collboni, have chaired the Best Innovation awards ceremony.
The awarded entrepreneurial projects in each sector have been Exum (e-commerce), Vottun (logistics), Rimbo Rent (real estate), E4-3D Engineering (digital industry) and Oimo Bioplastics (economic zones).
Barcelona, 9 October 2020. – BNEW – Barcelona New Economy Week, a hybrid and 100% professional event organized by the Consorci de la Zona Franca de Barcelona (CZFB), has successfully closed its first edition in Barcelona today as the world headquarters of the new economy. BNEW's objective has been to promote the global economic recovery with a focus on five key economic sectors: logistics, real estate, digital industry, e-commerce and economic zones. Over four days, 10,861 attendees from 111 countries have participated in the event, 90.84% of whom have done so online.
BNEW has closed a totally technological and disruptive event, unique in its format, due to the technological platform that has enabled 160 hours of content to be followed by attendees from all over the world who, in addition, have been able to connect with each other to generate new business. And also unique in its approach, because it is an event that was specifically conceived to promote economic recovery and provide solutions to the current social context.
Pere Navarro, special delegate of the State at the Consorci de la Zona Franca de Barcelona, has confirmed that there will be a new edition of BNEW next year and that he is "very satisfied because BNEW has been a tremendously useful event in these difficult times promoting economic reactivation on a global level and creating business opportunities around the world. The Barcelona New Economy Week has positioned the city of Barcelona as the new economy capital and has shown the leadership of the city and the broad industrial fabric it has in this regard".
Felipe VI and Pedro Sánchez have chaired the Best Innovation awards ceremony
King Felipe VI and the President of the Government, Pedro Sánchez, were present on the last day of BNEW, presiding over the delivery of the Best Innovation awards in each of the business sectors represented at the event, to show their support to the public-private collaboration for economic recovery.
Among the 52 participating national and foreign start-ups, the award-winning entrepreneurial projects were Exum (e-commerce), an application for catering and food professionals for them to easily manage orders for their businesses; Vottun (logistics), a blockchain platform to prevent fraud and optimize data processes; Rimbo Rent (real estate), which promotes rent without deposit and with greater safety for owners; E4-3D Engineering (Digital Industry), Licensed Digital Design Files for Automotive Parts; and Oimo Bioplastics (economic zones), that is developing new materials for packaging, capable of dissolving in water without leaving microplastics. The jury for the deliberation of the awards was made up of the Consorci de la Zona Franca de Barcelona, the Barcelona City Council and La Salle Technova.
A hybrid, innovative and successful format
BNEW's hybrid format has guaranteed that 31% of participants were international, coming from 111 different countries -38 from Europe, 24 from America, 25 from Africa, 29 from Asia and 5 from Oceania. A totally disruptive event in which everything has happened in three emblematic buildings in Barcelona (Estación de Francia, Movistar Center and Casa SEAT), but whose content has been followed online, live or on tape, through a powerful technological platform with six channels, one for each sector plus the one for the city's gastronomic and cultural activities.
The same platform has boosted business activity through a 100% virtual networking tool using artificial intelligence. In order to directly connect supply with demand, the data of all participants were crossed, which has generated 133,694 suggestions for contacts. The participants shared their agendas and 23,271 virtual meetings were held through the platform. At the same time, the 128 companies participating in BVillage have received 6,582 requests for information from event attendees.
Blanca Sorigué, managing director of the Consorci de la Zona Franca de Barcelona and BNEW has stated that "BNEW has exceeded all the objectives that we set ourselves when we created it by putting in contact professionals from the logistics, eCommerce, real estate, economic zones and the digital industry anywhere in the world, offering them quality content and the possibility of generating networking. After this successful edition, in a few days we will start working on the next edition that will also take place in 2021 in Barcelona".
BNEW has delivered an agile and dynamic program of debates and panels with 389 top-level speakers such as Hamid Mandouh, Senior Counsel King & Spalding LLP; Mats Granryd, CEO of the GSMA, organizer of the Mobile World Congress; James Zhan, Senior Director for Investment and Innovation at the United Nations Conference on Trade and Development (UNCTAD); Kristien Nuyts, Country Customer Fulfillment Manager Spain at Ikea; Rosalia O'Donnell Baeza, CEO of Telefónica Educación Digital; Alfonso Ayuso, Deputy Director General Banco Sabadell; and Martín Gustavo Ibarra, Vice President of the World Free Zones Organization (WFZO). BNEW has also had very present the emotions that are experienced in business with the participation of inspirational speakers, whose presentations were focused on achieving maximum performance, both personally and for teams.
Close public-private partnership
Two million euros have been invested for the organization of BNEW. Likewise, the event has had a close public-private collaboration with the participation of 37 sponsoring companies and more than 50 agreements with sectoral clusters on a global scale, thanks to which this first edition has already been economically sustainable. In turn, the celebration and organization have generated 140 direct jobs and 550 more indirectly.
In addition, at the Innovation Hub and BVillage, 52 national and foreign start-ups and 128 corporations with a high component of innovation shared ideas for the development of new projects.