BVillage has consolidated itself as a unique networking platform to do business deals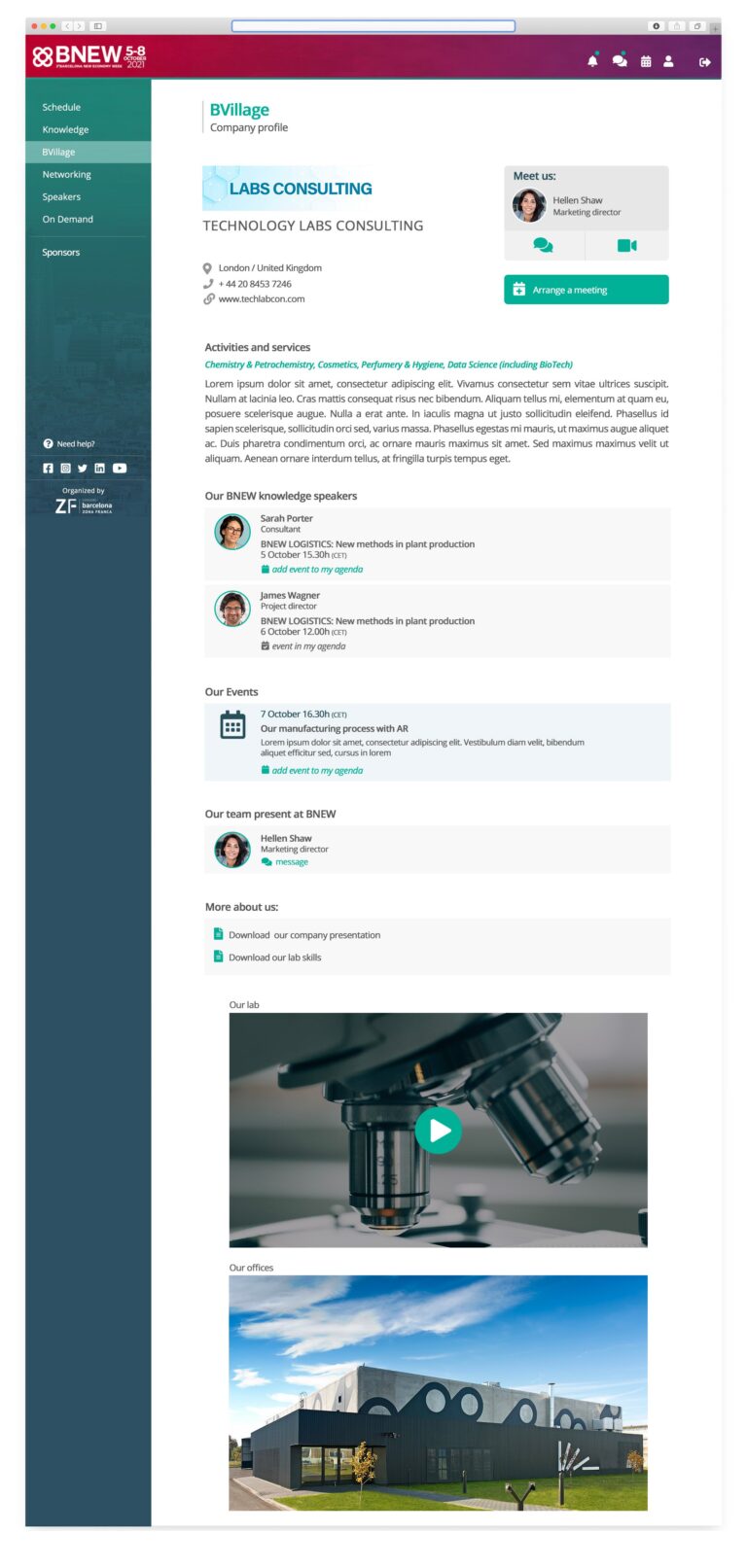 31 de May de 2021
The platform represents a new way of enhancing business opportunities, encouraging companies' visibility and an increasing contacts' networking without having to leave their office.
The Consorci de la Zona Franca de Barcelona thus reinforces its commitment to this tool within the framework of BNEW's the second edition, which last year had nearly 11,000 registrants from 111 countries.
The organization expects to host 400 companies at BVillage in this new edition.
Barcelona, 25 May 2021.- The Consorci de la Zona Franca de Barcelona (CZFB) has entrusted BVillage once again as a unique networking platform to do business deals, offering a wide range of advantages during the celebration of the new edition of BNEW (Barcelona New Economy Week), an event that will take place from October 5 to 8. Among its advantages, the tool will boost companies' visibility and expand their network of contacts without having to travel.
Companies may present their innovations to all participants through this platform to enhance business opportunities. In addition, they will have access to a wide base of national and international contacts and be able to schedule meetings and get digital contacts. It is a service for companies to promote themselves in a 100% B2B environment through a global window that increases their notoriety and helps them create productive relationships, optimizing time with the right target.
"The first BNEW edition already offered the BVillage platform and this year it will consolidate itself as a benchmark networking platform that directly connects supply and demand", stated Pere Navarro, special delegate of the State at the CZFB. He also wanted to highlight that "this also represents another step in the CZFB's commitment to 4.0, economy using artificial intelligence to create a totally unique and innovative tool in its field".
The companies that participate in BVillage will be able to make live commercial presentations to the event attendees via videoconference, as well as contact the attendees via chat, and participate in the BNEW Best Innovation Award contest. The tool will use artificial intelligence to suggest potential clients from each sector and business to companies through powerful filters and intuitive navigation, with a personalized list of contacts. Likewise, this format will offer all participants the metrics of all the actions carried out to measure the success of their participation.
The Consorci de la Zona Franca de Barcelona foresees that companies will increase the use of this platform in the next BNEW edition. Out of the 128 companies already present in the previous edition, the organization expects to reach 400 this year. Likewise, it is also expected that a high internationality will be maintained, and the presence of first-level speakers will expand, going from 389 from 2020 to 700.
Click here and here to see the two images of the BVillage networking  platform