DFactory starts robotics laboratory activity with the incorporation of OnRobot into its ecosystem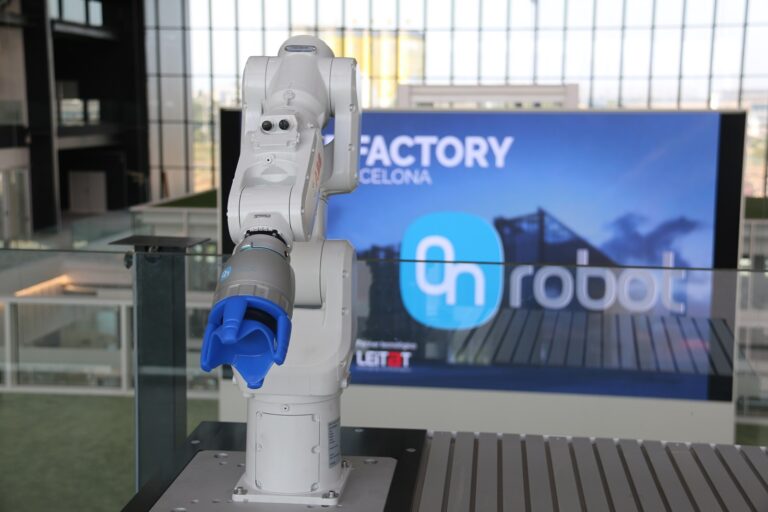 22 de October de 2021
OnRobot, a leader in collaborative robotics, is one of the first confirmed companies of the DFactory Barcelona ecosystem, which will occupy a private space of 58 square meters, along with other leading companies in technology 4.0.
The company, which develops grippers (colloquially, robot hands) for robotic arms, will loan automation equipment to the labs for use in ecosystem projects.
Barcelona, 18th of October, 2021. DFactory Barcelona, the Industry 4.0 node promoted by the Consorci de la Zona Franca de Barcelona and that counts with Leitat as Technological Partner, is fully immersed in the countdown for its inauguration scheduled for next November. This morning DFactory Barcelona has welcomed the arrival of the first industrial robotics equipment to its laboratories. OnRobot, a new member of the DFactory Barcelona ecosystem, will offer the companies of the ecosystem exclusive access to the ABB equipment, IRB1100, through the laboratories of shared access.
OnRobot is one of the first companies to confirm its participation in the DFactory Barcelona ecosystem, not only through the transfer of this equipment, but also by occupying its own private space in the building of 58m2. OnRobot joins the list of 4.0 technology providers of the ecosystem, and the company will also have access to the resources of the initiative for the development of its innovation projects in the field of industrial and collaborative robotics.
The laboratories of DFactory Barcelona will be operated by Leitat's expert technical staff, whose knowledge will be available to the business ecosystem for advice and development of different innovation projects along the value chain. The management model will consist of the coordination and collaboration of projects between multinationals, local companies and start-ups to generate joint technology and new business models, which will allow having updated technological mappings, matchings of the different scientific-technological capabilities of the different actors involved and identify potential joint lines of research.
Enrique Palomeque, Area Sales Manager Spain, Portugal, Greece & MEA of OnRobot, values the interaction with the DFactory Barcelona ecosystem, "as an innovation-intensive company, it is strategic for us to have laboratories in a highly competitive environment with research resources and capabilities.".
Thus, the objective is to contribute to the improvement of the competitiveness of the manufacturing sector and economic transformation, through the incorporation of research and innovation and cross-cutting enabling technologies.
In words of Pere Navarro, special delegate of the State in the Consortium of the Free Zone of Barcelona, values very positively the incorporation of OnRobot. "DFactory Barcelona will not only stand out for its continent, but also for its content. If we want to attract talent and investment, we need to offer all the companies in the ecosystem access to the latest technology, which will allow us to promote collaborative R&D&I projects".