Pere Navarro, new chairman of the Barcelona-Catalunya Centre Logístic Association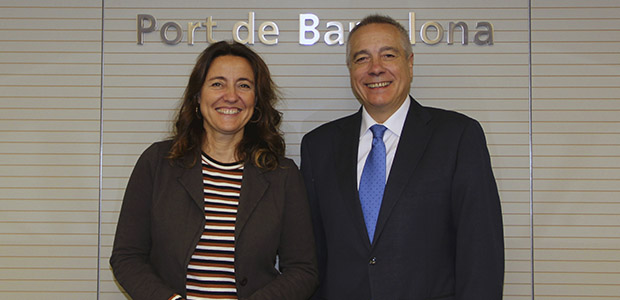 12 de December de 2018
Navarro will foster economic, social and environmental sustainability and implement a strategic plan to drive innovation and technological development in the logistics sector
Barcelona, 19 November. Today, during the General Assembly, Pere Navarro, State Delegate in the Consorci de la Zona Franca de Barcelona was appointed to the position of chairman of the Barcelona-Catalunya Centre Logístic (BCL).
The General Assembly also approved the appointment of two new vice-chairpersons: Mercè Conesa, chairwoman of the Port of Barcelona and Lluis Gómez Fernández, commissioner for Economic Development, Business and Innovation at Barcelona City Council. The new Executive Committee is made up of representatives of the member associations (Port of Tarragona, Barcelona Airport, Metropolitan Area of Barcelona, Pimec Logística, the regional railway organisation Ferrocarriles de la Generalitat, CIMALSA, Mercabarna, Transprime and Transcalit) and private enterprises (Saba, Mango, Merlin Properties, Schenker Logistics and Talleres y Recambios).
Strengthening public-private cooperation
Pere Navarro is prioritising competitiveness in the logistics sector in the short term, as well as strengthening public-private cooperation and relationships between institutions, which will be among the BCL's main strategies for the coming years. The Special State Delegate in the Consorci de la Zona Franca de Barcelona remarked that "Barcelona-Catalunya Centre Logístic has a crucial role in the mission to facilitate coordination and cooperation among administrations and companies to make us more competitive and to position us as a global leader among logistics platforms".
Sustainable development of all facets of Catalonia's logistics sector – economic, social and environmental – is another of the association's goals, and it will champion the implementation of a sustainable employment model to humanise logistics centres. Pere Navarro announced the development of a strategic action plan for the sector, investing in renewable energy to become as energy efficient as possible, driving sustainable mobility and providing solutions to the last-mile logistical problems caused by the impact of e-commerce.
The new chair of BCL also talked of the need to work on a strategic action plan for the logistics sector, enabling it to include innovative, disruptive solutions based on new technologies like the internet of things, blockchains, etc., which facilitate modernisation and boost competitiveness. Finally, Navarro stressed the need for BCL to find solutions to last-mile logistical problems, improving multimodality and development of logistical and industrial land.
Among the association's future activities will be strengthening the International Economic Forum in Logistics and reactivating the Economic Development and Internationalization Committee.
A photograph taken during today's General Assembly is available here.
Pere Navarro i Morera, Special State Delegate in the CZFB
Graduated in Biological Sciences from the Universitat Autònoma de Barcelona (UAB), Pere Navarro i Morera (Terrassa, December 23, 1959) has been appointed to this position after a prestigious career, highlights of which include his experience as Mayor of Terrassa, first secretary of the Partido Socialista de Cataluña (PSC) from 2011 to 2014, and representative and president of his party's parliamentary group.
In the private sector, his professional career has always focused on his main passion, strategic management of territorial planning and urban development, an area that encompasses his interest in society, concern for sustainability and respect for the environment.