Salle-URL and Consorci de la Zona Franca culminate the first edition of BMP Accelerator, an accelerator for start-ups in the real estate market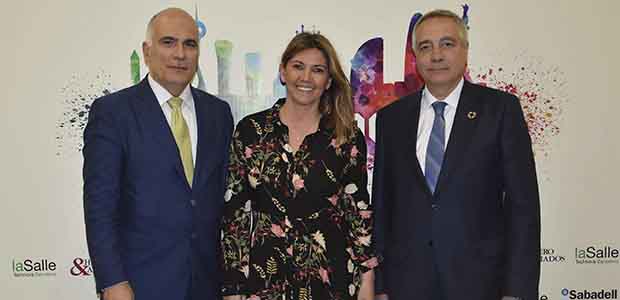 30 de April de 2019
The first participants were eleven emerging companies from around the world that were selected during the Barcelona Meeting Point.
Barcelona, 5 April 2019. This morning, La Salle Campus Barcelona-URL, through the innovation park La Salle Technova Barcelona and the Consorci de la Zona Franca de Barcelona met to culminate the BMP Accelerator, an accelerator for start-ups in the real estate market.
This 22-week programme is organised to provide start-ups to launch business initiatives and innovative projects and to develop market opportunities and attract investment, preparing them to work with corporations and facilitate networking with potential partners.
The eleven emerging companies from around the world that were selected from the PropTech area at Barcelona Meeting Point 2018 were 1001 portales, Alfred Smart Systems, Brichblock, Datare, Mayordomo, Nested, PropCrowd, Realo, Urbitdata, Viewtek and Zillios. They all took part in one-to-one sessions to establish their needs, theoretical sessions and technical marketing and sales practices, receiving advice on achieving success in rounds of investment. There were also meetings with key companies within the real estate sector to provide start-ups with information about current needs and how they can help to tackle these challenges. The enterprises taking part were Anticipa, APCE, Autonomy Capital, Colonial, Neinor, Shibsted Spain, Tinsa and JLL Real Estate.
The closing ceremony was held during TechDemoDay at La Salle Technova, during which Josep Miquel Piqué, executive president of La Salle Technova Barcelona ​​commented that La Salle-URL and the Consorci de la Zona Franca, "have created a leading accelerator in the PropTech sector that will be an inspiration for corporations in the real estate sector". Piqué also highlighted the potential of the selected start-ups, which "were chosen after scouting 1,000 start-ups from around the world, identifying new technology trends and business models impacted by digitalisation".
Pere Navarro, State Delegate in the Consorci de la Zona Franca de Barcelona (CZFB) and president of BMP, praised the first edition of BMP PropTech Accelerator and said that it will continue and grow in future editions of Barcelona Meeting Point. Regarding Barcelona Meeting Point 2019, according to Navarro, "we are already working on the BMP Start-up Connection Hub, a platform focused on digital transformation in the real estate sector. During the trade fair, there will be a whole series of activities for start-ups and for attracting and developing talent". Pere Navarro explained that the Consorci de la Zona Franca de Barcelona "is an excellent tool for economic transformation that we hope will also do the same for society. We want to be an opportunities factory, that is our challenge. And that's why we are investing in projects like the one we have started up this year with La Salle Technova Barcelona, with the first trade fair acceleration programme in our country, aimed at logistics and real estate start-ups by means of our SIL, eDelivery Barcelona and Barcelona Meeting Point trade fairs".
All the entrepreneurs that took part were satisfied with the programme, particularly the networking aspect and the opportunities to meet important sector agents. According to César Gusano, cofounder of VIEWTEK, "we had some valuable mentoring sessions with experienced people from the sector, and met important real estate agents, which has been a great opportunity for growing the company. We expect to emerge stronger and to apply all this new knowledge". Carlos Salas, data manager y cofounder of DATARE, says that the accelerator "has helped us to pivot our original solution through mentoring and other sessions, and has given us a more specific perspective of our final solution".