SIRT will be once again BNEW's technological partner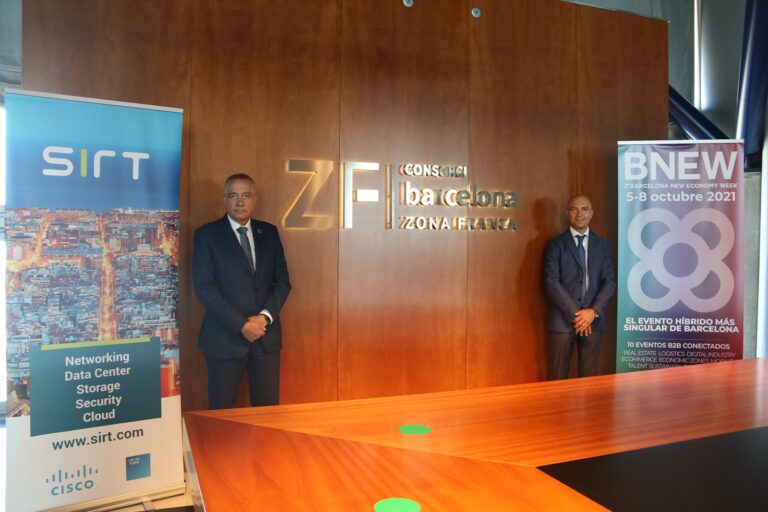 27 de September de 2021
The Consorci de la Zona Franca de Barcelona and SIRT have signed a collaboration agreement this morning whereby the technology company will be in charge of the operation of the innovative BNEW platform.
SIRT developed the tool at the first edition of the event, introducing key aspects such as artificial intelligence to enable powerful digital networking.
Barcelona, 9 September 2021 – The Consorci de la Zona Franca de Barcelona (CZFB) and SIRT have signed a collaboration agreement for the next edition of the Barcelona New Economy Week (BNEW), which will take place from October 5 to 8. According to this agreement, the technology company repeats as a technological partner of the event, taking charge of the development of new features of the innovative BNEW platform, as well as its operation. In the first edition of BNEW, SIRT was in charge of designing this technological solution that allowed all the contents to be broadcasted simultaneously live for the whole world. In turn, using artificial intelligence, it created a unique digital networking function that directly connects supply with demand.
The signing ceremony took place at the CZFB offices with the presence of David Garriga, founding partner of the SIRT Group, and Pere Navarro, special delegate of the State in the Consorci de la Zona Franca de Barcelona and president of BNEW, accompanied by Blanca Sorigué, CEO of the CZFB and BNEW, and David Peña, commercial director of the SIRT Group.
Pere Navarro highlighted that "one of BNEW's main differentiating factors is its technological platform, which enables thousands of people from all over the world to gather around a multisectoral event focused on the new economy whose content is broadcast from Barcelona. In addition, to be able to do online networking directly with people who share common interests is a great advantage". On the other hand, Navarro also highlighted that "the CZFB is committed to public-private alliances to create innovative and solid initiatives that, in this case, helps us to make BNEW a benchmark economic event, promoting Barcelona as the capital of the new economy ".
For his part, David Garriga stressed that "repeating the alliance with the CZFB to be BNEW's technological partner reinforces SIRT's commitment to diversify its business portfolio and reaffirms its commitment to the development of software applications". Garriga added that "the digitization and hybridization of the physical spaces proposed by SIRT for BNEW, together with the interaction of the virtual Networking developed on the platform, will generate new business models among the companies attending the event. For SIRT, BNEW is the result of all the Group's capabilities, combining all the company's engineering areas: Application Development, Collaboration, Infrastructure, Cloud and Cybersecurity ".
ser su partner tecnológico en BNEW refuerza la apuesta de SIRT por la diversificación en su portfolio de negocio y reafirma su apuesta por el desarrollo de aplicaciones software". Garriga ha añadido que "la digitalización e hibridación de los espacios físicos propuestos por SIRT para BNEW, junto con la interacción del Networking virtual desarrollado en la plataforma, permitirán generar nuevos modelos de negocio entre las empresas asistentes al evento. Para SIRT, BNEW es el resultado de todas las capacidades del Grupo, conjugando todas las áreas de ingeniería de la compañía: Desarrollo de Aplicaciones, Colaboración, Infraestructura, Cloud y Ciberseguridad".
BVillage
As part of the BNEW technological platform is, a space in which participating companies will be able to make their commercial presentations live to event attendees by videoconference, as well as contact attendees via chat, and participate in the Award for the Best Innovation of BNEW. Thanks to the use of artificial intelligence, the tool will suggest potential clients from each sector and business to companies through powerful filters and intuitive navigation, with a personalized list of contacts. Likewise, this format will allow you to obtain the metrics of all the actions carried out to measure the success of your participation.
Como parte de la plataforma tecnológica de BNEW se encuentra BVillage, un espacio en el que las empresas que participen podrán realizar sus presentaciones comerciales en directo a los asistentes del evento por videoconferencia, además de contactar con los asistentes vía chat, y participar en el Premio a la Mejor Innovación de BNEW. Gracias a la utilización de la inteligencia artificial, la herramienta sugerirá a las empresas potenciales clientes de cada sector y negocio mediante potentes filtros y una navegación intuitiva, con un listado personalizado de contactos. Asimismo, este formato permitirá obtener las métricas de todas las acciones realizadas para medir el éxito de su participación.