Visits, events and trade fairs
The first 18 start-ups at Logistics 4.0 Incubator, presented by CZFB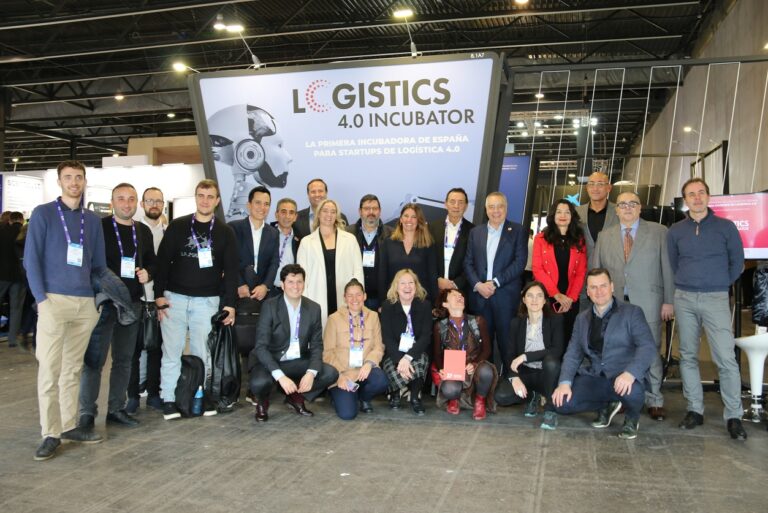 28 de February de 2023
● Logistics 4.0 Incubator: the first showcase and think tank for Industry 4.0 development and integration within Logistics industry's value chain field in Spain.
● Blanca Sorigué, CEO of CZFB, said: "With initiatives like this one, Consorci de la Zona Franca de Barcelona will become one of the key powerhouses of the new European digital economy".
● Incubated companies will take advantage from a budget between 1,000 € and 3,000 €, last-generation equipment, consulting, mentoring and training, as well as the best technical experts in order to carry out their innovation projects.
Barcelona, 28th February 2023. – As part of the 4 Years From Now (4YFN) Exhibition –taking place in Barcelona– Consorci de la Zona Franca de Barcelona (CZFB) has presented the first 18 start-ups that will be part of the Logistics 4.0 Incubator: the first Spanish incubator focused on Logistics 4.0, a project created by CZFB with the collaboration of INCYDE Foundation and ERDF Funds.
The aim of this program is boosting the most innovative and interesting initiatives in terms of the application of Industry 4.0 new technologies within the Logistics industry's value chain. For example, Additive Manufacturing, Robotics and Automation, Internet of Things (IoT), Big Data, Photonics, ERP and Artificial Intelligence.
Blanca Sorigué, CEO of CZFB said: "With initiatives like this one, Consorci de la Zona Franca de Barcelona will become one of the key powerhouses of the new European digital economy".
The selected 18 star-ups will take advantage from a budget between 10,000 € and 30,000 €, as well as a unique space at CZFB's headquarters, where they will have the possibility of using last-generation equipment (3D printing, robotics and intralogistics for companies, design of sensor systems, hardware for parameter control, cryptographic security, Digital Twin, etc.) in order to carry out their innovation project and technological implementation. The main goal of this platform throughout the year is to gather the 25 most attractive start-ups with the greatest potential within the logistics industry.
In addition, incubated companies will also take advantage from consulting, mentoring and training services: defining collaborative PI strategies, business models, estimations of the most accurate technologies to be implemented in the project, funding, among others. Furthermore, the best technical experts will help them in every moment in order to transform their ideas into realities.
First 18 incubated companies
Additive manufacturing
1. Aldora Tech (Sabadell): air transport services using last-mille drones. They want to implement additive manufacturing (3D printing) in their redesign project, material benchmark, component certification or in their mechanical and topological studies, among others.
2. Smart Point (Barcelona): smart locker manufacturing for pick-up points. The idea is taking advantage from 3D printing in order to manufacture the first injection mould prototype series. At the project's second step, they want to make deliveries automatized and to use sensorics to make the process even better.
ERP, Artificial Intelligence and Internet of Things
3. Ecodeliver (Viladecans): shared parcel service. It takes advantage from someone who has free space at his vehicle in order to transport merchandise within the same route. The challenge is developing a system –throughout the use of Artificial Intelligence– allowing estimating the quantity of people that can make a route and evaluating the platform's delivery capacity.
4. Enkitek (San Sebastian): make cultivation processes at vertical gardens automatic. For optimising the process, the idea is to integrate robotics for handling plants, additive manufacturing for printing grippers and, through the use of Artificial Intelligence and Deep Learning, retracing plants growth and identifying possible illnesses and treatments.
5. Nabla Visión (Gavá): tailor-made solutions in terms of real-time 3D perception in order to improve artificial vision's algorithm performance (integrating camera sensors and 3D Lidar devices). The goal is to implement a smart vision system that enables image processing and its interpretation with a view to facilitate decision making, real-time processes at the warehouse.
6. Illumo Robotics (Toulouse, France): software for robots specialized in picking at logistics warehouses. They need upgrading their software –throughout implementing Artificial Intelligence– for spotting unidentified objects, optimizing product transfer's speed and reacting towards unexpected changes.
7. Estoko Logistics (Barcelona): network companies with the necessity of flexible storage or last-mille supply spaces with other ones with a surplus of storage capacity. The idea is to optimize warehouse openings, new locations and, through the use of Artificial Intelligence, taking advantage from new existing spaces, improving stock managing and planning.
8. Bikelogic (Sant Cugat): last-mille logistics cooperative, employing bicycles as their means of transport. They want to develop a software based on Artificial Intelligence to gather different logistics operators' dispatches and to optimize combined routes according to some specific constrains.
9. Bleecker (Murcia): a system for merchandise identification and tracking through artificial vision and AI. They need a tailor-made hardware and developing their own camera with the aim of reading system codes and run decoding algorithms.
10. Webtrans (Granada): a platform for transport-processes digitalization within the logistics chain. They must broaden their abilities in terms of Artificial Intelligence in order to boost their platform and increase their predictive abilities.
11. Innporting (Celdrà): a technological platform (Marketplace and Saas) networking exporting and importing companies with transport companies for optimizing operations. They need their server infrastructure to be larger and improving their functionalities through boosting Machine Learning and Artificial Intelligence.
12. Usyncro (Madrid): block-chain technology for efficient and safe commercial transactions at a global level. The goal is developing a system through Artificial Intelligence allowing document reading and optimizing processes, avoiding errors and e-mails.
13. Gandolapp (Barcelona): online attendant geared towards lorry drivers in with the aim of optimizing their working experience at the cab. They want to use Artificial Intelligence in order to improve their experience and adding a major predictability and traceability within the process, as well as calculate probable stops and times of arrival.
Big Data
14. Last Mile Team (Madrid): Merchandise and route optimization. They should develop a data space and connect it with the common European ecosystem, nourish it with information and create an open repository.
15. Mouters (Barcelona): sustainable mobility solutions for companies through vehicle sales and renting –specialized in delivering and last mille–, as well as a software focused on vehicle traceability. They need to develop an IT system enabling them analysing a large volume of data and optimizing decision-making processes, all of that using Artificial Intelligence and Big Data.
Networking, mentoring, support y training
16. Tuklo (Madrid): a platform offering logistics solutions and integrations (inventory management, WHO, WMS, ERP, e-commerce, etc.) through an API system (Application Programming Interface). The challenge is adding into their platform something focused on warehouse managing and control. That is the reason why they need support for looking for existing solutions in the market, as well as proposals for improving their current SaaS.
17. Jotavirtual (Barcelona): augmented reality for improving navigation at large warehouses and areas. Their goal is taking advantage from mentoring services and financial advice offered by the incubator, as well as the possibility of networking.
18. Cofelvring (Barcelona): bidirectional ring-shaped logistics infrastructure for nurturing –continuously and automatically– the existing logistics and industrial environment. They want to be part of Logistics 4.0 Incubator for taking advantage from the different services offered and networking.