Barcelona Woman Acceleration Week 2023: A starting point towards equality at business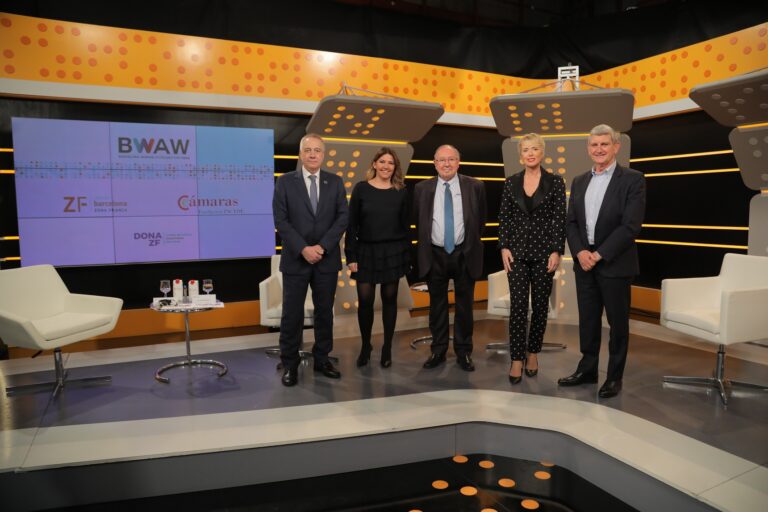 23 de February de 2023
BWAW 2023 is organized by a partnership between Consorci de la Zona Franca de Barcelona and INCYDE Foundation. It will host different issues as, for example, the incorporation of women into Industry 4.0, female entrepreneurs' profile, female managers at public institutions and their role, as well as women at STEM industry.
BTECH, BHEALTH, BFINANCE or BENTREPRENEUR are some of the fields in which speakers from this new edition will be divided into in order to address the different topics.
Barcelona, 23 February 2023 – Barcelona Woman Acceleration Week (BWAW), organized by the Consorci de la Zona Franca de Barcelona (CZFB), will take place for the third time on the 9th and 10th of March. This event is designed in order to reflect and materialize women's visibility at key areas of the economy.
After celebrating International Women's Day on the 8th of March, CZFB will gather at BWAW a panel of 50 top speakers –national and international, men and women– in order to reach solutions that enable move forward gender equality within the business and industrial fields.
At this edition, topics in which speakers will be focused on will be divided into 10 sessions. After the opening, gender perspective within the digital world, as well as the importance of women on boosting Industry 4.0 development will be addressed at a field called BTECH. Later on, personalities at public institutions will talk at BPUBLIC about "Women's leadership at the public sector". After the lunch break, achievements in terms of creativity leaded by women will be set into light at BCREATIVE. Finally, on that day, guests will discuss "Women's role at jobs of the future" at BEDUCATION.
Moving to the second day, the first session is called "Moving towards gender equality: Cases of success within the private industry" and it is part of the field BPRIVATE, focused on private companies. BHEALTH, the health system and women's contribution to science is next panel's topic, which is called "Female Health and Science". Then, the advantages of gender diversity within the economic field will be reflected at BFINANCE. Later on, the challenges that female entrepreneurs have to face will be addressed at BENTREPRENEUR. Finally, different female and male experts will be part of the panel conducted in English called "Female entrepreneurs at vulnerable countries" at BINTERNATIONAL.
CZFB is looking for, not only repeating, but also breaking last editions' assistance –2,500 people attended BWAW 2022. For reaching that, conferences will be hybrid again, due to the possibility of following every of them through Barcelona Woman Acceleration Week's online platform. Registrations can be done through the event's website, where further information is provided. Meetings will take place onsite at DFactory Barcelona: this is the main hub of Industry 4.0 in southern Europe, focused on the creation of an ecosystem that attracts talent, technology and investment in a unique space that brings together the most innovative companies, start-ups, innovation centres and laboratories. In its short path, DFactory 17,000-m2 building is occupied at a 65%.
"BWAW was created with the aim of being a platform where experts from different industries would state their knowledge and experiences. However, it was also created for showing different women's successes as an example for upcoming generations", Blanca Sorigué, CEO at CZFB, said. She also added that "for this edition we have especially gathered top female and male experts. They will offer actual solutions in the process of overcoming gender gaps through the promotion of women's presence within the work environment, especially at fields where women's limelight has been historically less".
For Pere Navarro, Special Government Delegate at CZFB, "this event is part of CZFB's global and long-lasting strategy looking for obtaining results and real facts in terms of gender equality. And everything following UN's guidelines found at Sustainable Development Goal (SDG) number 5. Other key initiative is the creation of Council for Women (Consell de la Dona de Zona Franca de Barcelona) –representing 19 companies located at Zona Franca's industrial estate– which greatly supports BWAW organization".