Facing chemical hazard – 25th October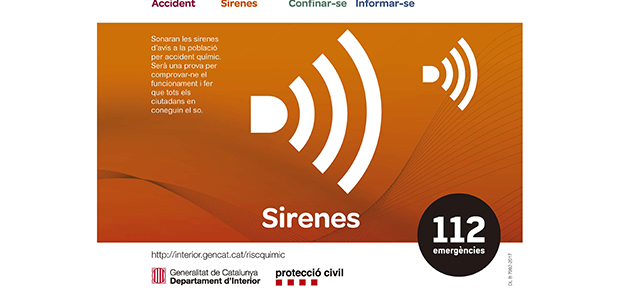 25 de October de 2017
Chemical hazard sirens were tested on 25th October.
Every six months General Directorate of Defence and emergencies is testing the chemical warning system (action included in Chemical Hazard Emergency plan in Catalonia, PLASEQCAT).
Emergency procedures:
When affected by an accident, the alert will be declared: the alarm will sound by means of the sirens.
Stay inside behind closed doors and windows If you are in the street, take shelter inside the nearest building. Turn off all air-conditioning devices.
Mass media: The radio, the television and the Civil Protection's twitter @emergenciescat will provide you with information and all necessary advice.
End of the alert: It will be announced by a continuous 30-second signal.