Spain's free trade zones drive Europe's first association of Free Zones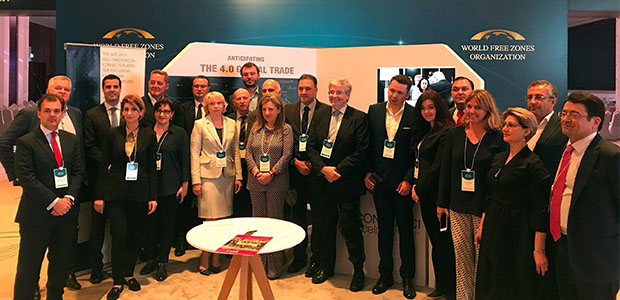 10 de May de 2018
WORLD FREE ZONES ORGANIZATION CONGRESS IN DUBAI
SPAIN'S FREE TRADE ZONES AND THE INTERNATIONAL ASSOCIATION OF SCIENCE PARKS AND AREAS OF INNOVATION DRIVE EUROPE'S FIRST ASSOCIATION OF FREE ZONES
The initiative unites EU Free Zones under a single representative association to serve "Greater Europe" and those operating outside the Community framework to increase competitiveness through innovation
Dubai, 30 April 2018. Today, coinciding with the World Free Zones Organization Congress in Dubai, delegates from 10 countries representing some 100 free zones signed a protocol of intent to form the European Association of Free Trade Zones, driven by the Spanish Free Trade Zones with support from the International Association of Science Parks and Areas of Innovation (IASP).
The protocol provides the basis for forming an international advocacy entity to represent the free trade zones with a focus on innovation, since European free trade zones and science parks want to work as a network and increase their added value in light of looming changes in the productive world and international trade in the economy 4.0, which is causing a rapid paradigm shift due to digitization, the Internet of Things (IoT), 3D printing, robotization etc.
INNOVATION, THE COMMON GOAL
Ten free zones representatives from Serbia, Poland, Ireland, Belarus, Lithuania, Latvia, Moldavia, Luxembourg, Macedonia and Spain (delegates for Gran Canaria, Tenerife, Santander and Vigo), appointed the Special State Delegate in the Consorci de la Zona Franca in Barcelona and president of the Spanish Free Trade Zones, Jordi Cornet in this nascent associative process to approve the Articles of Association at the International Logistics and Material Handling Exhibition (SIL) to take place from 5 to 7 June in Barcelona.
Mr Cornet explained that "the association will generate great added value by uniting the economy 4.0 with tax advantages in these European countries, which are joining forces to implement the industry 4.0 and innovation in their areas, achieving prominence in international trade. We intend to hold this discussion throughout the continent and, if necessary, make regulatory changes to do so".
Josep Piqué, president of the International Association of Science Parks and Areas of Innovation (IASP) and La Salle Technova Barcelona, attended the Dubai meeting to support the formation of the association, and expressed his commitment to the development of this new European network. He emphasised the importance of unifying management of the free trade zones with the added value of the science parks, combining tax exemptions with values such as sustainability, security and technological innovation.
The memorandum emphasises the need to bolster innovation, sustainable development and risks prevention and safety in trade and the global supply chain, which are increasingly integrated into global value chains and international business partners.
This recognises "the fundamental role of free trade zones and economic zones in growth, development and investment, job creation and the prosperity of nations", noting the need for "stronger cooperation between all stakeholders, particularly the government, customs and the private sector".
With this initiative, free trade zones and science and technology parks will join forces to implement innovation processes in their areas of influence and collaborate with companies, with the aim of achieving balanced economic and social development.
The meeting of representatives of European free trade zones attracted the attention of observers and media at the World Free Zones Organization Congress in Dubai, photographs of which are available by clicking on the following link:
Photo link Photo Oficlal Http://ftpw.el-consorci.com/web/30.4.18ret.jpg