Roca Barcelona Gallery will host the BNEW 2021 Sustainability Program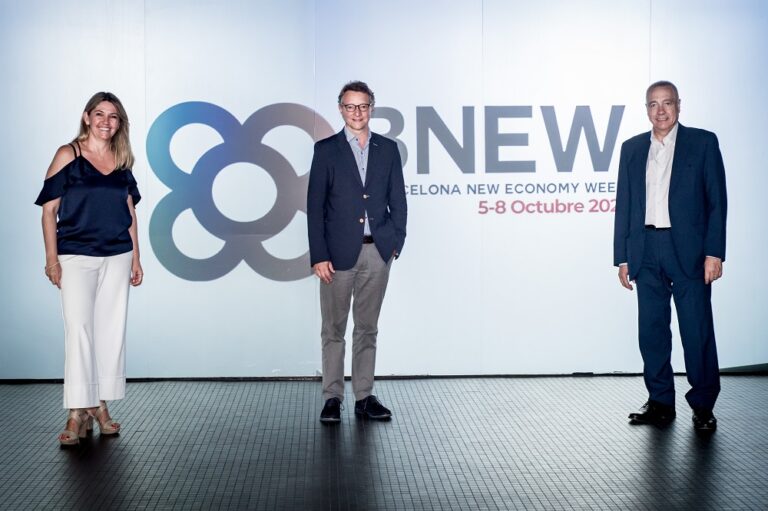 26 de July de 2021
Pere Navarro, special delegate of the State in the Consorci de la Zona Franca de Barcelona, ​​ Blanca Sorigué, CEO of the CZFB, and Xavier Torras, director of Communication and Corporate Brand of Roca, have signed the agreement today
The venue will host BNEW Sustainability, one of the five new topics that the event will address in its second edition, doubling those already addressed in the first edition.
Barcelona, 20 July 2021. – The Consorci de la Zona Franca de Barcelona (CZFB) and Roca have signed an agreement whereby the Roca Barcelona Gallery, a landmark building for the brand worldwide, will become one of the emblematic venues of the next edition of the Barcelona New Economy Week (BNEW). Specifically, the space will host all the BNEW Sustainability contents, a new BNEW topic with a more transversal approach.
Roca Barcelona Gallery has thus become a BVenue Partner of this reference event that will take place from October 5 to 8 in Barcelona. With a hybrid and B2B format, 100% professional, BNEW's objective is to reinforce the new economy momentum and highlight the role of Barcelona as an agent of change and economic reactivation based on innovation.
Pere Navarro, special delegate of the State at the Consorci de la Zona Franca of Barcelona and president of BNEW, Blanca Sorigué, CEO of CZFB and BNEW and  Xavier Torras, director of Communication and Corporate Brand of Roca  were present at the signing of the agreement, which took place in this emblematic building of the Roca brand.
Pere Navarro stressed that "sustainability is already an essential asset to take into account in all economic and social sectors. For the Consorci de la Zona Franca de Barcelona, it was essential to add this new topic to BNEW's second edition and we are proud to be able to count on the Roca Barcelona Gallery alliance, with whom we share the same concern with sustainability, to carry out all content sessions on the subject".
For his part, Xavier Torras pointed out that "since its creation in 2010, Roca Barcelona Gallery has established itself as a space for meeting and reflection on the cross-cutting challenges that mark the development of our society, with the participation of professionals from very diverse disciplines. Without a doubt, sustainability is one of the most relevant challenges at a global level, so this agreement is a great opportunity for us to continue contributing to the debate and social awareness".
A second edition with twice the number of topics and 800 speakers
At BNEW's first edition almost 11,000 attendees from 111 different countries participated. Now, BNEW returns with its totally innovative, 100% professional and hybrid B2B format, and faces its second edition with an ambitious schedule of activities and twice as many themes. The great economic event expands its program to ten thematic areas: Mobility, Sustainability, Talent, Science and City, as a novelty, together with Logistics, Digital Industry, Ecommerce, Economic Zones and Real Estate, already present in the first edition. In turn, the CZFB also plans to expand the number of speakers and go from 389 to 800 in this new edition.
BNEW Sustainability will focus on topics such as fashion and sustainability, renewable energies, the future of the food industry, climate change, waste management or female leadership within sustainable projects.
The second edition of BNEW will also continue to commit itself with internationalization as a key element, as well as on generating business through 100% virtual networking using artificial intelligence, matching interests and directly connecting supply and demand. Likewise, at the BVillage space, the participating companies will be able to make presentations via videoconference of their products or services, as well as interact with the attendees.
Registration for the event is now open, free of cost until September 6, at the following link: https://www.bnewbarcelona.com/registration.html