Media-TIC Building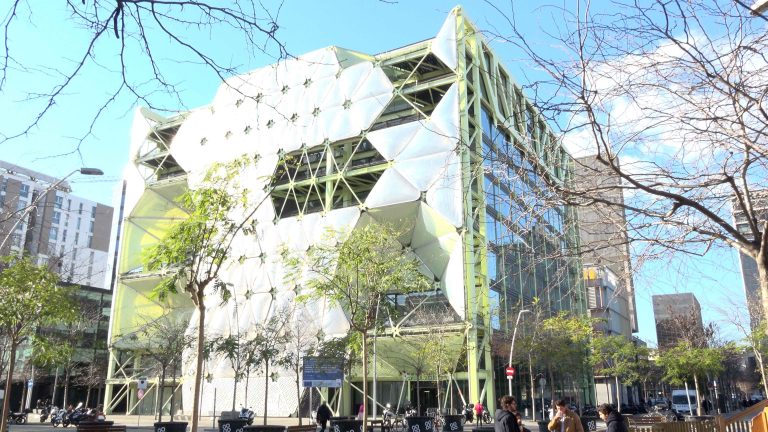 Total area available: 3.062 m²
This unique building in the form of a cube designed by the architect Enric Ruiz-Geli is located in the heart of the 22@ district, at the junction of the streets Roc Boronat and Sancho de Ávila. Media-TIC Building symbolises Barcelona's potential in the audiovisual and information technology sectors. 
The building displays its metallic skeleton behind a translucent and innovative envelope that acts as a solar filter on two of the four facades. The main facade has a padded look due to the sophisticated pneumatic system, which allows light to pass through, or creates shadow, depending on the solar radiation. This results in energy savings of 20%. 
It has an open ground floor with no columns and nine floors on an area of 16,000 m2. The remaining 7,104 m2 house a modern auditorium with a capacity for 200 people and two basements.
Currently, Media-TIC houses the Business Services Office (OAE), a key space for large companies and SMEs in Barcelona, which brings together a permanent portfolio of added-value services for business growth. It also includes a number of initiatives organised by Barcelona Activa, a business promotion institution run by the Barcelona City Council.
Media-TIC has received numerous architectural awards, among them the World Architecture Festival (WAF) award for best building in 2011; the Research Award at the 9th Architecture and Urban Planning Biennial; and the European Award for Steel Structures in 2009.
Available bureaux:
5th Floor; Module P5M1: Surface area 436 m2
5th Floor; Module P5M5.1: Surface area 119 m2
5th Floor; Module P5M5.2: Surface area 140 m2
6th Floor; Module P6M1: Surface area 781 m2 + terrace 34 m2
7th Floor (entire): Surface area 1,586 m2 + terrace 92 m2