Botany Labs Joins Barcelona's 3D Incubator for Advanced Prototyping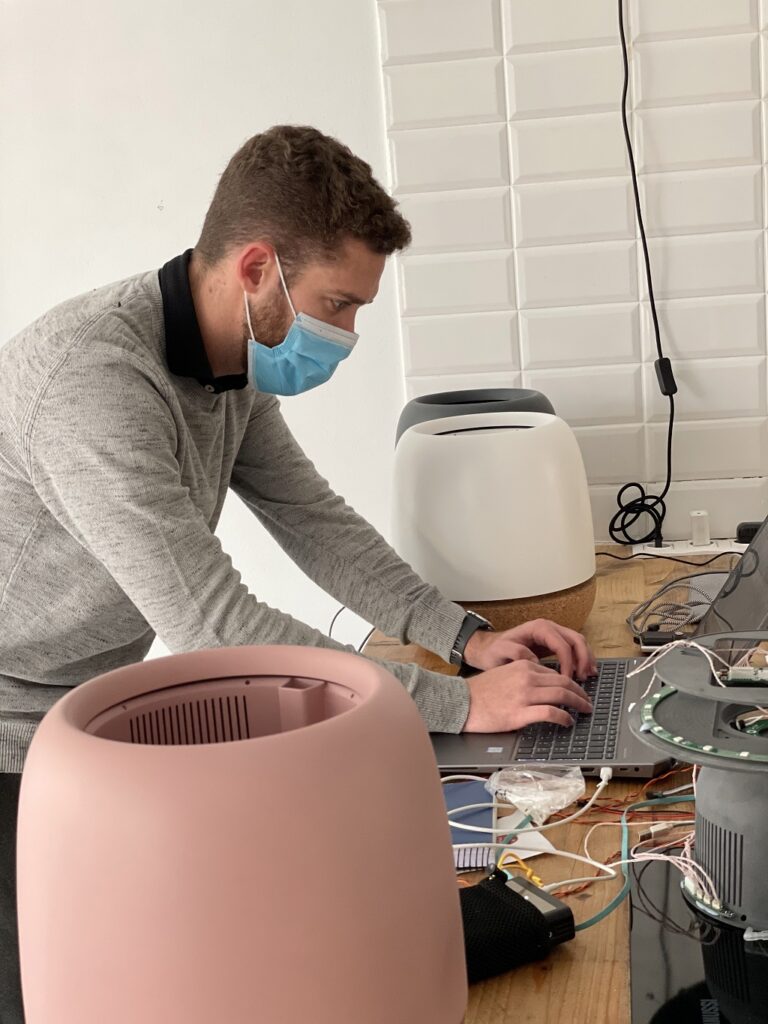 3 de May de 2022
How a partnership between a technology incubator and an innovative startup opens new possibilities for the air purification industry.
Barcelona 3D Incubator: Prototyping at its finest
Barcelona's 3D printing incubator, 3D Incubator, has  the goal to cubate the 100 best projects related to additive manufacturing in 5 years, and project KORU by Botany Labs is one of them.
The Hight-Tech Business incubator is 50% co-financed by the European Regional Developent Fund and led by "El Consorcio de Zona Franca de Barcelona" and "Fundación LEITAT".
Botany Labs: The future of air purification
Botany Labs SL is a tech startup that develops sustainable and smart air purifiers (KORU Air) with the aim to improve people's health while focusing on sustainability. The company was founded in 2020 by three visionary entrepreneurs, Friedrich Eickhoff (CEO), Andrea Silvestrin (COO), and Ahmed Elibiary (CTO), in Barcelona. The three founders have a bold vision of how to enable greener and healthier living through technology.
The air purifier industry is an exploding multibillion-dollar business, with a CAGR of over 10% until 2028. The challenge is, that most air purifiers just capture pollutants with their disposable (mostly HEPA) filters instead of destroying them. The consequence is, that millions of toxic HEPA filters land in landfills where they further contaminate the environment.
To solve these problems, as well as the huge impact of disposable filters technologies on our planet, the three founders of Botany Labs have developed "KORU – The smart and sustainable air purifier and smart plant pot", thanks to an ongoing partnership with the mechanical engineering team from the Machine Elements and Tribology Institute of the University of Kassel in Germany. Together they have developed an air purifier and smart plant watering device  that combines the air filtration power of plants, called phytoremediation, as a first step in the air cleaning process. The basics of this process were discovered by NASA over 30 years ago, and have been proven to be effective multiple times over the last three decades.
To enhance the air filtration process, they have also introduced a second step to the air purification process of their device: a washable nano-coated PCO (photocatalytic oxidation) filter. The filter is coated with TiO2 (Titanium Dioxide) and activated by UV-A LEDs.
The photocatalytic oxidation process is a powerful air purification technology with the ability to destroy particles smaller than 0.001 microns, whereas HEAP filters can only filter particles with a size of 0.3 microns.
Within the activation process, highly reactive electrons (hydroxyl radicals and superoxide ions) are formed and destroy VOCs (Volatile Organic Compounds), airborne bacteria, and other microorganisms. Molds, odors, and airborne viruses are also greatly reduced by UV light, without emitting ozone or other hazardous byproducts, unlike other technologies.
But the Research & Development does not stop here. The founders are already testing new nano-coating technologies that will boost the efficacy of the filter by over 60%. With the new coating, they are also aiming to destroy over 99,98% of airborne SARS-CoV-2.
Air purification powered by Nature
Despite the effective air purification technology, the founders are passionate about simplicity, design, and automation.
Since the device's air purification process includes living plants as part of its 3-step filtration, there was a need to automate plant-care as much as possible. But, as many can attest, keeping our green friends alive can be more challenging than it seemed.
To this end, KORU embeds a plant watering system that represents a huge innovation for a traditionally stagnant industry: plant care. Through a number of embedded sensors, the device monitors all vital parameters needed by the plants to survive, while improving the air quality. All the collected data are stored in a cloud-based botanical database where the perfect watering and fertilization cycle, as well as light exposure, is calculated by Artificial Intelligence for each individual plant.
The integrated auto-irrigation system delivers perfect, tailor-made water to each different plant residing within the device. KORU integrated with a free mobile App through which recommendations are sent to the user about where to position the plant, based on the light exposure. KORU's app also gives the user full transparency and remote control of air purification and plant care at any time.
This innovative solution is designed to help both private consumers and companies to have healthy air at home or in the office and be surrounded by beautiful thriving plants, without having to replace filters and overpaying plant care services.
The KORU air purifier was successfully launched in October 2021 on the crowdfunding platform Indiegogo where it raised over 110.000$ in pre-orders (over 400 devices sold). They are still accepting pre-orders while preparing for mass production.
"During the over 2.5 years of product development and testing, the latest 3D printing technologies like HP Multi Jet Fusion, SLA, and MDF have been vital for the company to test and optimize the airflow and the overall design." underlined the Chief Technology Officer, Mr. Elibiary. "However, we will never stop improving our product, which is why we are excited to be part of the #1 high-tech business incubator, led by great institutions like El Consorcio de Zona Franca and Fundación LEITAT. This collaboration" continues Elibiary – "can help us to significantly accelerate our R&D initiatives to improve our airflow and filtration technology a great deal."
"All in all, collaborations like this are all we are about" announced F. Eickhoff, CEO of Botany Labs, "they fit our company's purpose to drive sustainable and disruptive technologies forward through impactful synergies with the local tech ecosystem."
The collaboration is a unique opportunity for Botany Labs, to drive innovation forward and become the leading startup for sustainable and smart air purifiers and smart planters. According to the three founders, there are more solution in their
If you want to follow Botany Labs journey, you can check them on Social Media or check out their website.